This month we talk with Lt Col (Retd) Willie Coupar and shine our volunteer spotlight on all he does within the Castle and Museum.
Hello Willie,
Can you tell us how you started volunteering at the Castle and Museum?
I had retired from my job at Glasgow University and moved to Perth.  Frankly I was bored and looking for something to do.  With a degree in History and 25 years in the Regular Army, this fitted the bill admirably.
There are so many worthwhile volunteering opportunities, what made you decide to give your time to the Castle and Museum?
I have always been interested in the fine Regiments of Scotland and my father did his recruit training in The Black Watch before being posted to the Cameron Highlanders in 1916.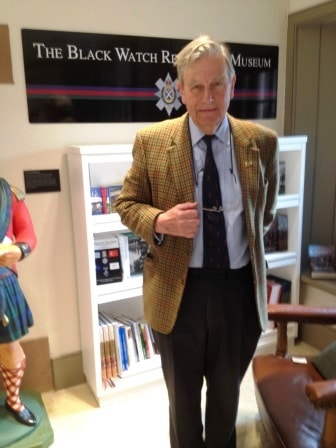 I know you undertake a number of volunteer roles within the Castle and Museum, could you tell us about them?
I am privileged to sit on the Friends Events Committee which includes arranging for guest speakers.  I give occasional talks on WW1 matters within the Museum programme.  I have collated several medal collections. I helped organise a temporary exhibition on The Black Watch in the Indian Sub-Continent.  I also conduct guided tours of the Museum.
Thinking about your role as a tour guide, what do you enjoy the most?
For me the greatest satisfaction is in attempting to distil the magnificent story of this fine Regiment into a coherent package lasting one hour – an impossible task but most challenging.
 Can you share with us your favourite artefact within the Museum?
There are so many! – but as a Glaswegian I think I have to say the painting of the raising of a second battalion of the 42nd on Glasgow Green prior to deployment to the North Americas. You can see this in Gallery three of the Museum.
Thinking about your role as a Friends Committee member, what do you enjoy the most?
My greatest satisfaction is helping to arrange key speakers for the Events programme.  We have been fortunate in having Professor Ted Cowan lecture on the deeds of the first Marquis of Montrose in the Civil War in Scotland; we are shortly to hear Professor Sir Hew Strachan, Chichele Professor of the History of War, talk on the outbreak of WW1 and we are currently negotiating with Professor Gary Sheffield to deliver an address on Field Marshal Sir Douglas Haig.
 What has been your favourite Museum event to date?
Again a nigh impossible question as they have all been good, but if I have to choose I would say the recent musical evening delivered by the Pipes and Drums and dancers of The Black Watch, 3rd Battalion, The Royal Regiment of Scotland.
 What has been the highlight of your time volunteering at the Castle?
It has all been good, interesting and enjoyable.  What has been especially satisfying has been to see how well the volunteers, all from different walks of life, have been embraced and encouraged by Trustees and Staff – this smacks of excellent man (people) management of which the Castle and Museum today can be justly proud.
Would you recommend volunteering at the Castle and Museum to others?
Absolutely!  There are many tasks to perform, all volunteers are appreciated and should know that they will be joining a jolly good team.
If you are interested in volunteering at the Castle and Museum visit our website.
To find out more about the Friends organisation and how to join visit the Friends page on our website.