This month we shine the shine the spotlight on our volunteer, Emily. Emily, thanks for sharing with us your experience of volunteering with the Castle and Museum.
 Can you tell us how you heard about the volunteer opportunities at the Castle and Museum did?
I saw an advert in the Courier.
There are so many worthwhile volunteering opportunities, what made you decide to give your time to the Castle and Museum?
My husband had just retired and the Castle and Museum was something which would interest us both in different ways.  I was interested in doing something different from the work and volunteering I had done previously but which would still involve meeting people.
Can you tell us about your volunteer roles?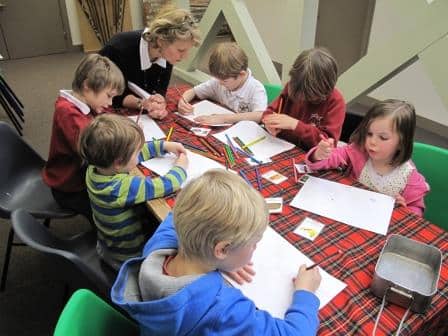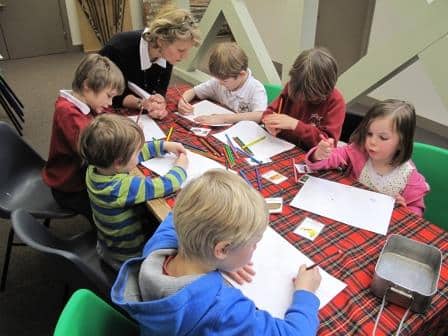 I started as a volunteer in the Copper Beech Cafe where the staff proved to be very supportive, helpful and welcoming to a complete novice.  My role involves taking and serving the customer orders which means I meet and, when appropriate, have an enjoyable chat with the café regulars as well as visitors to the Museum.
I then also became involved in the educational programme at the Museum; assisting with school visits.  This proved to be fascinating, with me learning much more about the history of The Black Watch and all the many associated personal stories which bring the objects on display in the Museum to life.
I thoroughly enjoy participating in both of these roles.
Thinking about your Education Support role, what do you enjoy the most?
I think it is the children of all ages who have amazed me with their interest and enthusiasm for knowledge especially regarding World Wars I and II.
Thinking about your Café Assistant role, what do you enjoy the most?
The whole ambiance of the Copper Beech Cafe, from both customers and staff, makes my time in this role a very enjoyable experience.
 What is your favourite Copper Beech dish?
Not tried them all yet but am very happily working my way through the menu.  Enjoy the variety of soups which have all proved to be delicious.
 What has been the highlight of your time volunteering at the Castle?
Too many to pick out a particular one!  The stories from the Cafe customers can be fascinating and often very moving while the interest and comments of the school children who visit never fail to delight me.
Would you recommend volunteering at the Castle and Museum to others?
Without any hesitation.  Excellent training is provided and the staff are extremely supportive and enthusiastic.  There is a warm camaraderie among the team of volunteers.  Volunteering at the Castle and Museum has exceeded all my expectations of what I would gain from being a volunteer.
To find out more about volunteering at the Castle and Museum click here.