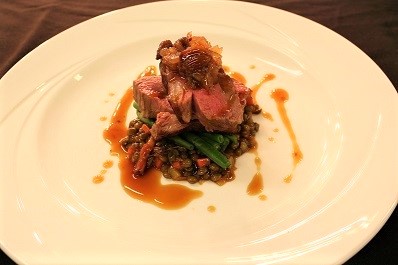 Rump of Roast Lamb is a simple yet delicious winter dish. You can keep the food miles down by using Perthshire lamb and vegetables from your local farm shop.
Roast Rump of Lamb
Braised lentils, pancetta, button onions, apple and elderflower chutney, wilted greens, madeira jus
Ingredients | makes 4 servings
150/160gms in weight) lamb rump
125gms braised lentils (puy lentils cooked in stock with a brunoise of carrot, celery, onions
100ml chicken stock
70gms button onions (also known as silverskin)
30gms pancetta lardons
90gms wilted greens (can be any of the following spinach, kale, fine beans, asparagus)
4 teaspoons of apple and elderflower chutney
125ml lamb gravy
Method
Soak Puy lentils in water preferably overnight.
Sweat finely diced carrot, celery and onions in a pan until soft, being careful not to discolour. Then add the puy lentils and stir on low heat for approx 5/10mins, add chicken stock and cook for a further 15mins or until the lentils start splitting. Leave aside to cool.
Season lamb rump, and seal in pan, cook in oven at 180 degrees for approximately 11-15 mins . Once cooked leave to rest for about 5 mins, before carving into two.
In a hot frying pan add button onions and pancetta, cook until golden brown. Then add the greens to pancetta and onions. Once they have wilted leave to one side.
Place the puy lentils onto the plate, then add greens, pancetta and button onions, followed by the lamb on top, add 1 teaspoon of chutney on the top of lamb, serve with lamb gravy.