Black Watch Soldier Stories
Sergeant David Finlay was one of 14 Black Watch soldiers to have been awarded the Victoria Cross, the highest British medal for gallantry in the face of the enemy.
He was born on 29 January 1893 in Guardbridge, Fife and left formal education aged 14. Finlay gained employment as a ploughman but keen to join the army he enlisted with The Black Watch in 1910 and served in the 2nd Battalion.
His battalion was stationed in India when the First World War broke out but by October 1914 had arrived on the Western Front.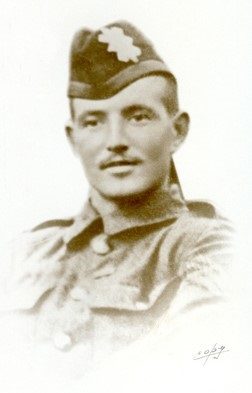 On 9 May 1915, during an action at Aubers Ridge, Finlay was tasked with leading a bombing party of 12 men in an attack on a German position. Within hours, 10 of the 12 in his group sadly became casualties. With his men's safety in mind Finlay ordered the two surviving men to crawl back to safety behind British lines. Disregarding his own wellbeing Finlay went to the assistance of a wounded man and carried him over 100 yards of fire-swept ground to safety. It was for this courageous act that he was presented with the Victoria Cross by King George V in July 1915. His bravery saw him promoted to Corporal and, later, to Sergeant on 27 June 1915.
By January 1916 the 2nd Battalion had been redeployed to Basra, Mesopotamia. On 21 January the men were ordered to assault a Turkish position along the Tigris River. It was during this attack that Finlay was killed, fighting with the same courage and valour that had earned him his Victoria Cross in 1915. Sergeant David Finlay was 23 years old when he died.
Although his grave is unknown Finlay is commemorated on the Basra memorial and on the Monzie war memorial in Fife. In 2019 his memorial in Guardbridge was rededicated and moved to sit alongside the village's war memorial.
We are honoured to have Lance Corporal Finlay's Victoria Cross on display in gallery five.