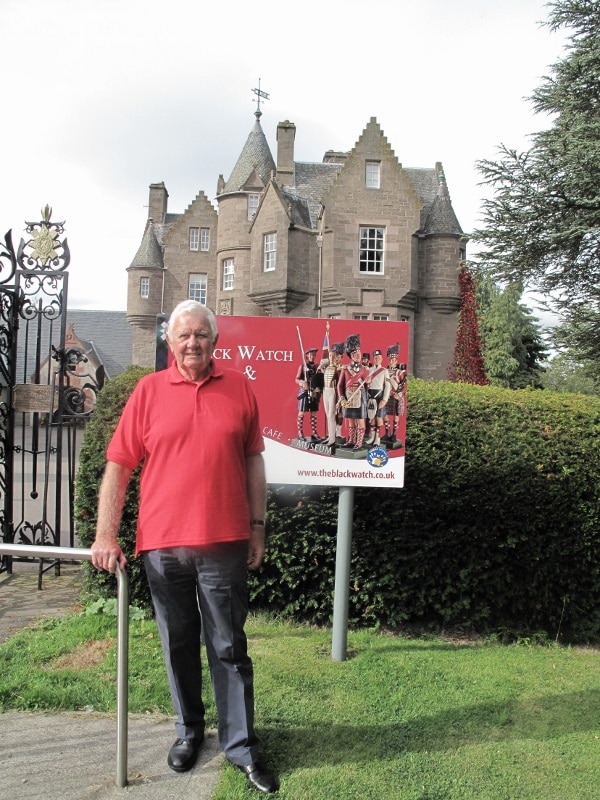 My expectation of being a Poppy Partner was that it would enable me to support and assist the staff at The Black Watch Museum welcome the public attending the Poppy Exhibition.
I imagined coaches arriving and visitors being guided in an orderly manner to view the exhibition. My experience has been quite different and has exceeded all my expectations.
I volunteered for week day shifts, but added some weekends to cover shortfalls. On most days the sun has shone, but I have also been out in the cold and wet.
Coaches do arrive, but visitors come by all modes of transport. There are rarely queues. Mostly a steady stream who move casually at their own pace. The atmosphere is relaxed and respectful.
Poppy Partners I have served with are from an astonishing variety of backgrounds. At weekends there are a number who work and give up their free time to volunteer: during the week there are more retirees like myself. Some have a Black Watch Regimental connections, but many have no military connection; many are local and others travel some distance. A regular is a lady from Dumbarton. She leaves home at 6.00am and travels by public transport to start at the poppies at 9.30am. She was a volunteer at the Commonwealth Games and decided to volunteer again.
They give their time freely, bring lots of enthusiasm and are always ready to help.
The visitors come from more varied backgrounds than I can ever have imagined. I have met people from all over the world. This week a woman who had cycled round Scotland parked her bike at The Wavell Gate. The Poppies and Museum was her last visit before taking the train back to England. At the same time a limousine arrived with American tourists making the visit before going on the Wallace Memorial and Glengoyne Distillery. A bus brought a group of Canadian visitors announced; they had met The Black Watch of Canada Association Pipe Band who advised they had to visit before travelling to Inverness. A lady asked me to explain something to her husband. He was on a video link on her phone speaking from Brisbane, Australia. A group with additional needs, who came by coach, commended the friendliness of the staff particularly the staff of the Castle Café.
A keen photographer from Glasgow who had taken the Museum Tour said the Museum was so emotional and personal that he did not take any photographs. He took lots of poppy photos and would tell his friend they must "get on the bus". The only complaints are about car parking which is out with the Museum's control, but Stagecoach provide an excellent bus service – BW1.
I have had the opportunity to speak to many Museum Staff and Volunteers. They are invariably in good heart and enthusiastic despite considerable pressure.
The Exhibition has been a great success. The setting is magnificent. Many thousands have now visited and been introduced to The Black Watch Museum, Shop and Café and Perth City.
I am proud to be a Poppy Partner.
Colonel A Murdoch | Chairman of The Black Watch Association