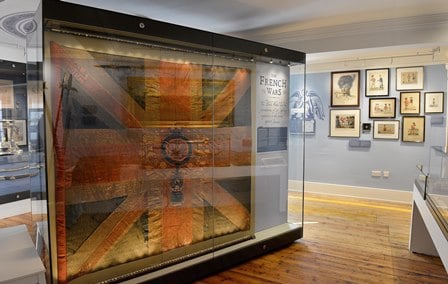 My Museum object highlight is, without a doubt, the Waterloo Regimental Colours. These are on display in gallery 3, known as the French Wars gallery. I am fascinated by their journey through time. The sights they have witnessed and the stories they would be able to tell. They have been in battle with The Black Watch, they have survived and are here to remind us of the powerful legacy this Regiment has left.
The Waterloo Colours were carried by the 42nd from 1802-1817 and were presented to the museum by the Duke of Richmond and Gordon in 1938. These colours saw action at Quatre Bras on the 16th June and Waterloo on the 18th June 1815 They witnessed the death of Colonel MaCara at Quatre Bras and were fiercely defended during that battle as the Watch were caught napping by squadrons of General Pire's Lancers.
At Waterloo the colours flew at the start of the fighting which saw the 42nd positioned on the left of the allied line and as a result were partly sheltered from the initial French attacks. However as the day wore on the fighting started to hinge to the left and the Watch found themselves in the thick of it. Enduring repeated cavalry and infantry charges, it was only at roughly 7.30 in the evening that the French retirement began.
W B Woollen included the colours in his magnificent 1894 painting, The Battle of Quatre Bras, which can be seen hanging over our fireplace in the Castle Café. If you look really closely you can see them in top left hand corner of the painting.
The colour are now over 214 years old and have had a degree of conservation to ensure they can be on display for many more years to come.
Lorna Tunstall | Retail Manager