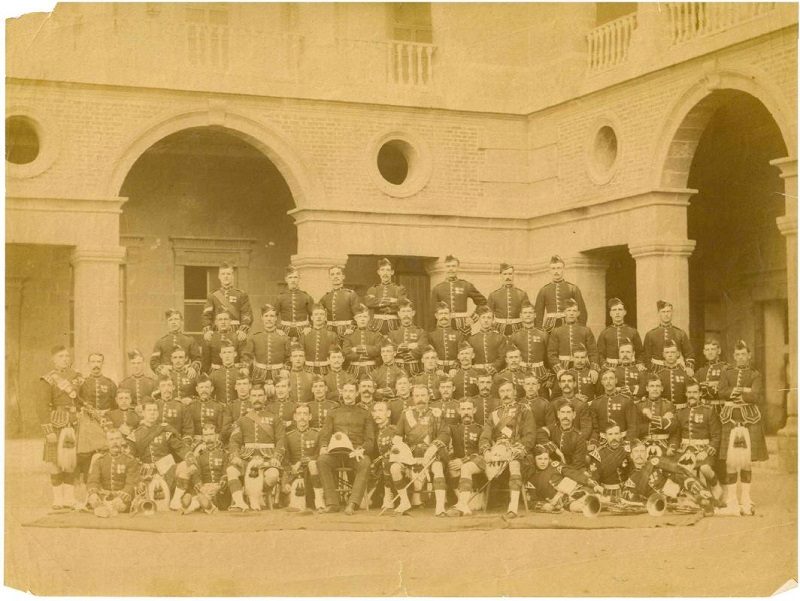 Since 2018 The Black Watch Castle & Museum have been cataloguing the archive collections. Myself and Carol-Anne Mackenzie, the Project Archivists, have been working to arrange the archives into collections and describing them to international archival standards. Part of this process involves us finding out information about individual soldiers, both in their personal and military life. This is important because it helps us get a better understanding of the documents by knowing what was happening when they were created. It also helps us understand who is connected to a document and why. We can then use this research to retell soldier stories in a variety of ways, such as, exhibitions, blogs and events.
One example of how we've been sharing the stories we discover is with our "Afternoon Tea with the Archive" event where we read archive letters from serving soldiers to their loved ones during times of conflict. One such soldier was Private Spencer Barwood, who had written letters to his family in the 1880s describing what life was like whilst serving as a bandsman with the 1st Battalion in Egypt;
"The electric light (searchlight) was used to see the enemy's works at night; it showed everything. I woke up in the night and saw the bright light shining on our men laying in their kilts with their rifles piled. It was a beautiful sight and one I will never forget."
By cataloguing the collection we were able to draw on the family history research we had previously recorded to give his letters more meaning. Spencer's mother had died when he was 4 years old. He and some of his siblings were admitted to the Saint Saviours Union Workhouse; other siblings were sent elsewhere. Personal information like this helps us to understand why Spencer enlisted as a bandsman at only 14 years of age. It gave more significance to the letters that were sent to his siblings, including those he had been separated from at a desperate time in his life.
Following 12 years of service, Spencer was discharged from the army on 2 November 1886 in Malta. He immigrated to Australia where he could be closer to his sister Nellie who was already living out there with her family. In one of his letters to her he wrote:
"Of course you understand I am going to stay a short time in Egypt on my way out, so do not expect me in Melbourne until March at the earliest. But I'll let you know when the time comes, when to expect me. I suppose the boys are looking for me now; they won't have much to see when they do see me, just what is left after three short campaigns. What does Jim say to my coming out, does he expect anything grand?"
Over 60 collections have been catalogued and each has required further investigation into the lives of individual soldiers. Despite our best efforts some still remain a mystery to us but for the majority, by researching their life as a soldier, son, husband, brother, friend we have been able to add meaning to their personal effects. As well as this helping museum staff it means we are able to share these collections and life stories with you. You can independently access details of our catalogues on The National Archives website.
New funding provided by the Army Museums Ogilby Trust in April 2019 has ensured the cataloguing project will continue until March 2021 and has facilitated the digitisation of over 2000 items from First World War collections.