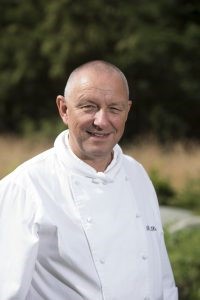 My interest in food began at a very young age when I enjoyed helping my mother and aunt bake cakes and scones for family gatherings. This interest grew into a desire to pursue a career in the food and hospitality industry. Aged 15 I began training at the George Hotel in Edinburgh and became a qualified chef 4 years later.
I have now worked in the sector for over 40 years and have gained a wealth of skills, knowledge and experience along the way. I have worked in a variety of roles including, Head Chef at the 2 AA Rosette Rufflets Hotel in St Andrews, The Grill (fine dining) at the Old Course Hotel, St Andrews and at Gleneagles Hotel in Perthshire. I have also been Executive Chef at Archerfield Private Member's Club in East Lothian, Carnoustie Golf Resort and Spa and the Caledonian Hotel in Edinburgh. Throughout my career I have earned several industry accolades including the World Master Chefs Society Gold Medal, Grand Prix Gold Medal and an Icon of Scotland Award. 
I love to promote our wonderful industry and mentoring young talent. Therefore, I am involved with Springboards Future Chef initiative, a development programme which aims to introduce culinary skills to 11-14 years. I also undertake various cookery demonstrations at festivals and colleges throughout Scotland.

I have a passion for using the quality ingredients that Scotland offers, respecting their individual flavour and how they can work together to create memorable food experiences. I particularly enjoy cooking with fish, Turbot (also known as the King of the flat fish) being my favourite. I like using local produce, reducing food miles and building good relationships with suppliers.

I am excited to take up the position as Head Chef at the award-winning Black Watch Castle and Museum. I am looking forward to creating a new style of menu, keeping it simple and allowing the flavour of the natural ingredients to shine through.